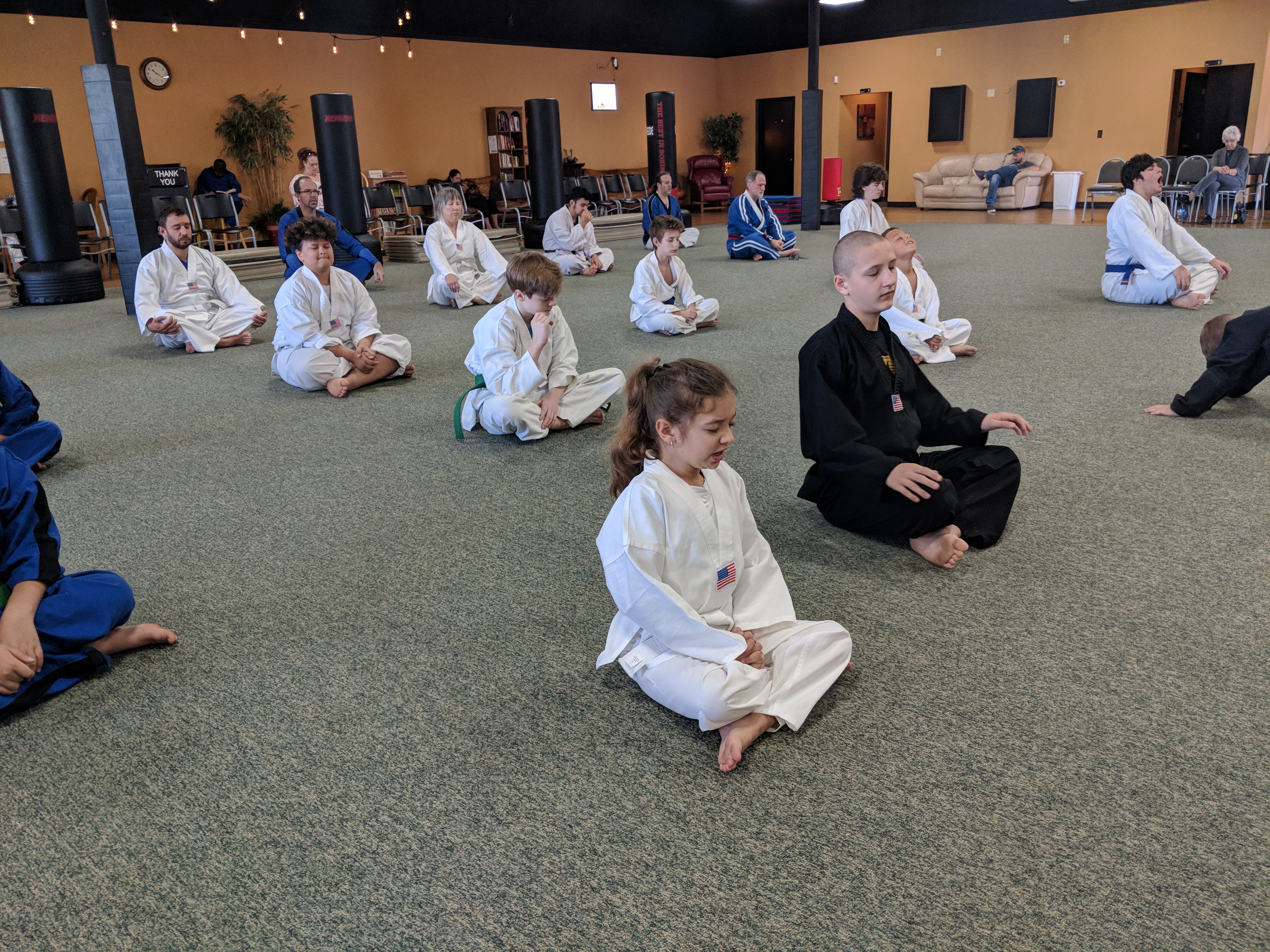 Q: Why do you post so many pictures of students clearing their minds before class? Why not more pictures of students in class?
A: This is the one moment in each class where the instructors aren't busy teaching our awesome students! Things get busy.
Q: What do you teach?
A: We teach PEOPLE.
Q: Ok smarty pants, what's the real answer?
A: We teach a blend of different styles so that students aren't limited to just one method of self-defense. We develop confidence based on learning realistic skills, self-discipline to control mind, body and actions, laser like focus to accomplish more, athleticism to stay healthy for all our lives, structure to set and achieve goals beyond what most people dare to attempt and high moral values based on our code of virtues.
Q: Why do so many people choose your school?
A: I don't know about other schools, but perhaps they see that our focus is truly on helping people through martial arts training, not dividing our attention to different things. Perhaps they see our passion to teach and guide our students, taking time with each when needed. Perhaps they have heard what others have said about how this is much more than an amusing pastime for children, but instead a positively impacting, life altering experience. Perhaps they know that my Master's degree in Recreational Therapy puts me in the perfect place to do this, as well as my Bachelor's degree in Education. Perhaps they recognize that my 35 years of teaching experience gives us a better ability to do this. Perhaps they know that my time actively using my martial arts while working in a psychiatric hospital gives me an understanding that someone teaching just on theory cannot have. Perhaps they know our instructors spend hours each week training to maintain certifications and strive to be the best in our field. Perhaps they know we partner with the leading martial arts industry professionals such as MAIA, HYPER and Harry and Friends Black Belt Principles so we can provide the best for our students. Perhaps we offer a more flexible schedule that works with theirs. Perhaps we teach an age group the other schools might not focus on, such as adults and preschoolers. Perhaps we are just the closest to them. Perhaps, they did their due diligence, shopped around and made a sound, educated decision. Perhaps they met us and went with their gut. Everyone has their reasons, but we never stop trying to provide the very best martial arts training experience for our students.
Q: How can I do this for me or my child?
A: Our current trial offer is only $29 and includes:
1. A Private lesson to make the first experience stress free
2. Two weeks of group classes to get a genuine feel for our school
3. An official uniform, a $49 value.
Just call (941) 7560-0800 to schedule your private lesson. Or purchaser the trial online here: http://member-site.net/?PT--Mgwhc