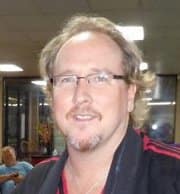 Master Boon Brown
Master Boon Brown, has Black Belts in several styles of Asian martial arts and has studied across the US and overseas. At an early age, he showed a deep love of sword fighting and swordsmanship, and was blessed with the opportunity to train in the style of his own European ancestors under to tutelage of his family. At a young age he knew he wanted to teach so he earned a degree in Education. This allows him to better understand how to teach and provide training for his students.
To put himself through school, he worked for two years as a Recreational Therapist at a Psychiatric Facility where his martial arts skills were put to the test daily. Few martial artists get this kind of authentic training and experience; no ring, no referee, no protective gear, non-consensual combat without rules.
Through this period he faced many revelations of the inaccuracy and lack of logic to many of the things he had been taught. He vowed to change things so that people could leave the martial arts studio feeling confident because their skills were viable in the real world, and not just because they had been frequently rewarded for excelling in physical skills that may not be based on valid and functional martial arts self defense abilities.
He is today considered the Founder of Ancient Ways, and the patriarch of a long line of Celtic teachings. He refers to his style as the Celtic Martial arts, more because of how it is taught, not what is actually taught. The Celtic Style caters to the student's strengths and minimizes their weaknesses. This is how the Celtic Warriors taught throughout Europe.
These great warriors may have been the originators of organized martial arts training, centuries before the Asian martial arts were developed. Their culture spread throughout all of Europe and their traditions still exist today in many of our own practices. The Celtic style of martial arts is very practical and has some similarities to the Asian arts. Master Brown has incorporated it into his style and takes the best parts of Tae Kwon Do, Hapkido, Karate, Jujitsu and the Celtic techniques and provides all of these as potential paths for his students. Having a family of his own, he is a dedicated husband and father who fashions his training style to benefit both adult and adolescent students. Classes focus on logical techniques, fun and safe training, the traditions of multiple cultures, and also on an honored code of conduct.